Vacation Rentals at Sunset Royale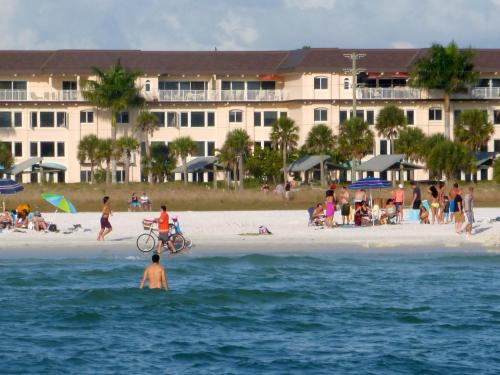 Sunset Royale Siesta Key Beachfront Rentals
From your Sunset Royale vacation condo you are less than a one mile walk by beach or by road to the tropical Village of Siesta Key where food, side walk cafes, libations, shops, groceries or just plain fun is awaiting your arrival. This tropical bohemian village lends itself to the casual lifestyle of those who love the sun and beach. This is not a community that is familiar with formal dress, suits or ties and yet great restaurants are waiting to serve you memorable meals at an island pace. Whether you require authentic sushi from JoTo, a fisherman owned restaurant, authentic Italian from Cafe Gabbiano, a special dish from Siesta Key's own Blase Cafe, or a New England meal from the Lobster Pot your palate will be impressed. We don't take food and beverage for granted on Siesta Key, our expectations are high. All this can be enjoyed by staying at our beachfront rental in Siesta Key. If you are staying at one of our vacation rentals at Siesta Sunset Royale you are one-block from the Village of Siesta Key and 100 yards from the beach.
Siesta Sunset Royale beach house hotel vacation rentals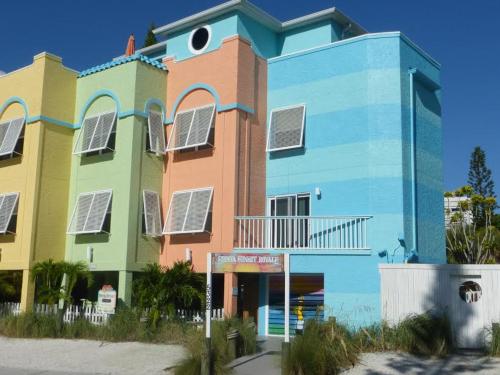 This seven apartment vacation rental on Siesta Key across from beach access #7 and one block from the tropical Village of Siesta Key is also three blocks north of our rentals at Sunset Royale across from Siesta Key Public Beach. Amenities include all beach equipment, of course, heated pool & spa, barbeque and covered picnic area with surfboard bar.
This is a also a great location for a quick Siesta Key get-away. Our calendar is always up to date and we will gladly reserve your short stay dates when you are less than 20 days from arrival. Minimum of four nights for futher out dates.
More importantly our beach house is operated with our guest in mind. Nann and I attempt to make sure you can arrive and immediately start to enjoy the beach, village and pool upon arrival. Our goal is always to treat our guests the way we wish to be treated when traveling.
Sarasota: A City to Explore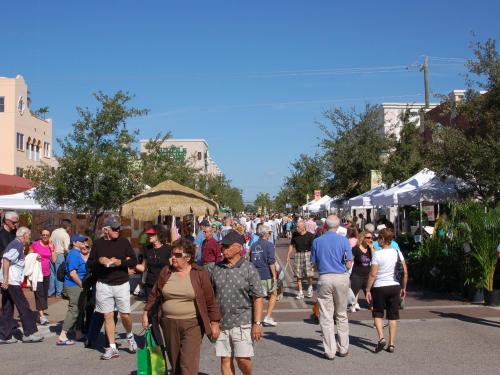 Sarasota Minutes Away
If you want to leave the Key, you will find many golf courses, theatres, museums, galleries and restaurants in Sarasota to enjoy. Sarasota is the home of Mote Marine, The Ringling Museum and John and Mable Ringling's beautifully restored bay side home, Ca D'Zan. This incredible 32-room residence has some of the feelings of the circus added to the architecture and furnishings. The Ringling Museum is built on those same grounds along with a casual restaurant and a unique circus museum, which details the history of the circus in the states that actually has its roots in Europe. A must for every woman worth her salt, is St. Armand's Circle, on Lido Key on the way to Mote Marine. Shopping is the sport on the circle which has some of the nicest stores and boutiques that you will find anywhere along with great restaurants to help you build up more energy for shopping. Give us a call today to learn more about our beachfront rentals in Siesta Key, only minutes away from Sarasota.
Siesta Key's Beach Access #7
The beaches on Siesta key are unrivaled, mystical and cool--real cool and never hot on your feet, even when air temperatures are in the 90's. Our Crescent Beach which is 3 1/2 miles long draws beach goers from all over the world. A visit to Siesta Key Public Beach, which sits in the middle of Crescent Beach is a beach to behold and walk on. A few blocks north of Siesta Key Public beach is Beach Access #7 and our favorite piece of beach on Siesta Key. With the same sand and water as the rest of Siesta Key's Crescent Beach it also has the unique location with no intense high rise condos pouring out guests all day long onto the beach. Only one high rise condo is at this location and it requires a one-month minimum stay if you are not an owner. Our Siesta Sunset Royale beach house is 100 yards from this almost private beach. When our public beach is packed blanket to blanket you will always find our guest enjoying the sand and their almost private location close to their vacation rental at Siesta Sunset Royale. Keeping it from becoming private is the constant parade of people walking the shoreline of this incredible beach and providing wonderful eye candy to those lucky people enjoying their piece of the sand at Siesta Key's beach access #7.