March 21, 2010
"Keep out" and "parking lot full" signs do not deter those trying to park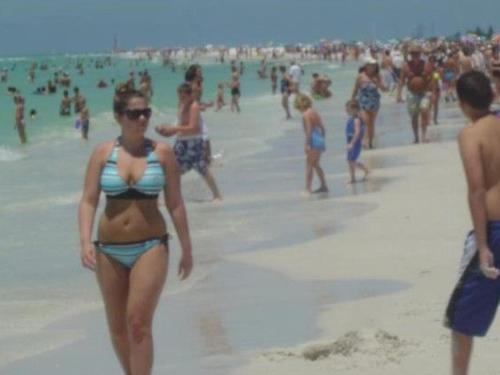 Siesta Key Public Beach on a crowded afternoon
Living or vacationing on Siesta Key right at Siesta Key Public Beach allows incredibly easy and stress free beach access. Our local paper, the Sarasota Herald Tribune, published a number of local opinions recently that were triggered by the announcement of the Sarasota County Parks & Recreation of changes and addition to beach access #7 off of Beach road that is access to our incredible powdered white sugar sand covering our shore line of Crescent Beach and Siesta Key Public Beach. I, like others, feel this shore line is a spectacular stretch of land that needs to have access maintained—to a point.
The issue of access seems to keep targeting parking access. One local resident proposed vacant lots along the road become Sarasota County property for additional parking lots. Some suggest a free bus service from other areas to shuttle beach goers to Siesta Key Beach while others complain the burden of providing parking or access should not be a Sarasota County responsibility.
Many of our Sarasota County supervisors feel it is justifiable to charge for parking at the beach. They claim this will cause visitors not to stay at the beach as long as they presently do, thereby creating space for those who cannot find parking and additionally raising more money for the county to spend. Those supervisors do not not wish to discuss the incredible burden paid parking would put on the surrounding neighborhoods of Siesta Key beaches. There is almost no commercial property in the beach access areas other than access point #5 at the foot of Ocean Boulevard in the Village of Siesta Key. None of the beach access areas accommodate very many cars other than the significant parking lot at the Siesta Key Public Beach entrance.
Presently parking is a problem very few times during the year. One of those times is now when we have many spring breakers and their parents or grandparents driving to the beach with those on spring break to enjoy this ritual. Unlike other spring break areas of Florida, Siesta Key is fairly calm and peaceful, but there is not enough parking for all who wish to be here with a vehicle. During this time of the year all of the condominium associations in the area are forced to be vigilant to keep trespassers out of their residents parking areas. Many pay for security to maintain their parking areas for the residents and others put managers and office help on extra hours of duty to keep their parking spots available. This same problems occur one other time of the year and that is on the 4th of July when Siesta Key merchants and condominium associations sponsor major fireworks on Siesta Key Public Beach.
Parking is usually available on most days of the year. Charging for parking would put every business and many condominium associations and residential neighborhoods on year around defense mode to preserve their parking areas for those who own them.
Every merchant in the Village of Siesta Key will tell you that the village is seriously limited in providing parking for everyone during peak times all year round. For many of us walking to the village is healthy and stress free. We don't need to search and vie for available parking and can't help but feel bad for those with no other choice.
Siesta Key is a truly unique area and the common reference of many about this being paradise is generally on target. To all of us who live here the minor traffic issues on a few days are easily acceptable. Somehow the merchants in the Village of Siesta Key seem to have figured out ways to accommodate their patrons and share parking facilities at different times of the day and night. The county has been put on notice by merchants and by other Siesta Key Associations that it is not acceptable to expand the business community or additional residential impact without also adding the parking that is necessary to accommodate the expansion.
This leaves the beach access parking as the one remaining issue. I believe I have an answer for this issue. To all those who drive to the beach and find no parking available, go away and visit on another day. I don't mean to be rude, non-caring or arrogant in my stance, just practical and pragmatic. The reality is that when there is no place to park at the beach the beach is full!! It is at its maximum and you arrived too late on this date to participate.
I did not come to this realization on my own, but rather had it delivered to me along with many other local citizens when I attended an open meeting sponsored by the Sarasota Parks and Recreation. The purpose of the meeting was to inform all who attended about the proposed changes that were presented for everyone's comments and input. Parking was a popular topic by many of the residents in attendance. John McCarthy, General Manager of the Sarasota Parks and Recreation, made mention of an older study that was ordered for the State of Florida to determine how many people the State of Florida beaches could reasonably accommodate. I don't remember the exact number, but the total number of parking spaces at the main beach parking lot after the planned revamping of the park was close to or over the total number of people the park could accommodate and this was factored by an average number of people per vehicle. The study did not include the additional people who walk to the beach from surrounding areas or take public transportation. You might want to read the last sentence one more time. Basically when the parking lot is full so is the beach, in fact it is overcrowded!