Siesta Sunset Royale Amenities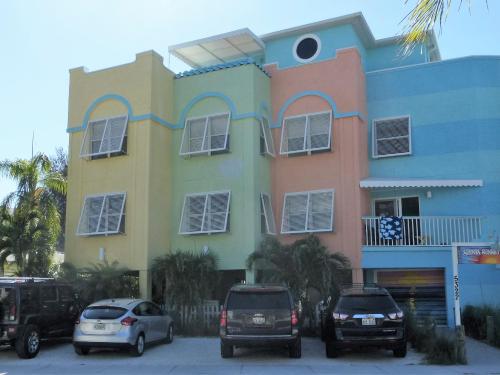 On July 12, 2010 Nann and I purchased the Siesta Sunset vacation rental property at 5322 Calle de la Siesta. This seven apartment beach house has a pool and spa, is located across the street from Crescent Beach access #7 and is one block from the tropical Village of Siesta Key. We are working on developing a website for this new property and until this is completed you can obtain room and rate information from this web page. We will continue to update the information on this page as the work progresses on our property. We have completed major corrections on the original building construction redecorated all of the apartments with a fun beach theme. You will find our rates at the bottom of this page and we will add photos as we complete the apartments. Each apartment has new furnishings with an updated decor including new furniture and appliances, wall treatments and fresh paint throughout. We provide a private parking space for your vehicle, if you have one, and because of our great location you should not have to move your vehicle until it's time to leave.

Before we detail the amenities and features of each of the apartments in our Siesta Sunset Royale beach house, I would like to review some of the amenities that are part of the beach house property for everyone.
Pool and Spa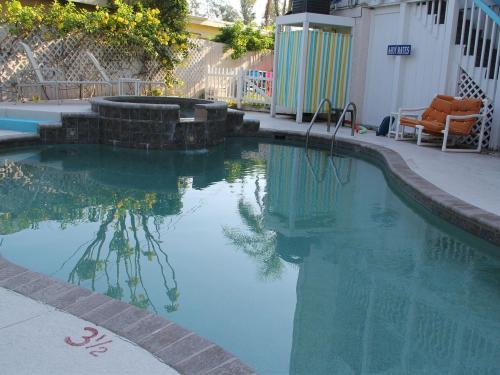 Pool and Spa are basically the entire back yard of Siesta Sunset Royale beach house. The beach house has an outdoor grill and screened lanai to allow for barbecue by the pool along with a relaxing area to enjoy a beverage no matter what the weather. We have enhanced the pool shower and added a colorful cabana shower. A pool side locker in the lanai is provided for guests of the penthouse at Sunset Royale who wish to come down to use the heated pool and spa. We have a number of other future features that we will display with artist renderings from famed Sarasota artist John Stanton who is a graduate from the Ringling School of Art and design.
Private Parking
Private Parking is provided in the entire front area of Siesta Sunset Royale and providing seven (7) individually designed parking spaces for the rental guests at Siesta Sunset Royale who arrive with a vehicle. The front of the building is landscpaped with naturual flora of sea oat, muly grass and beach daisies with access to the building over a new walkway that guides our rental guests into the building and to a vacation rental experience that has been greatly detailed for convenience, atmosphere, entertainment and NO STRESS.
Recreation Area
Our ground floor at Siesta Sunset Royale is all about our guests. Pool and spa behind our building completely fills our backyard with our heated pool with built-in spa allowing 104 fahrenheit degree spa that allows you to move from the spa to the pool and back. Our surfboard bar and picnic area is also conveniently at pool side with our famous barbecue nicely tucked into this convenient cook, drink and eat area.
Laundry Lounge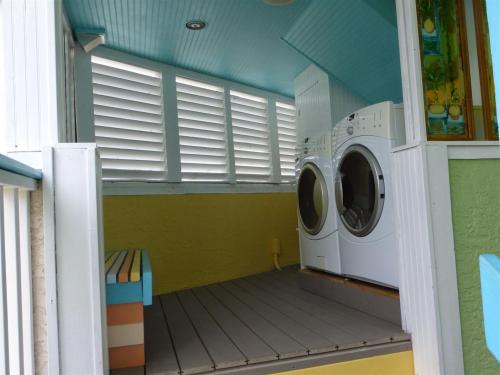 The "Laundry Lounge" is surely the coolest laundry area for rental guests you will exerience. Our goal was to provide a laundry room enviroment with a view, breeze and comfort. The former laundry area in this building was horrible with no breeze, no scenery, no music and no place to sit. All of that is history and the only thing I would suggest it to stick a bottle of wine or a few bottles of beer in your laundry basket if you want to experience the full affect of the Siesta Sunset Royale laundry room. We do not charge for the use of the washer and dryer and we provide the laundry detergent.
Sky Deck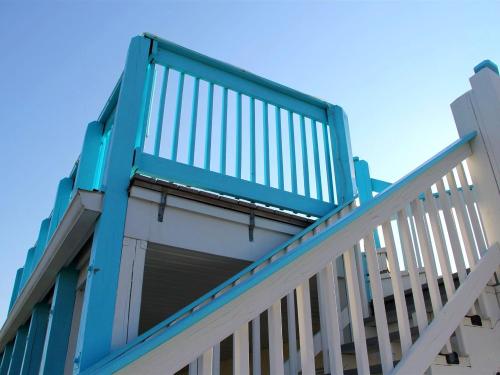 Sky Deck is a 24 hour a day, 7day a week, 52 week a year experience that is a unique Siesta Key view from Siesta Sunset Royale Sky Deck. The sky deck provides you with a panoramic view of Crescent Beach, the Village of Siesta Key and Siesta Key from four stories up in the air. You need to be up here to get the full affect. Viewing the sunset from this deck that rises over the top of Siesta Sunset Royale is an experience that you will want to enjoy every evening unless, or course, you are on the beach watching the sunset and breathing in our salt water air from the shore of the Gulf of Mexico.