Beaches
Siesta Key Public Beach/Crescent Beach
Siesta Key Public Beach is located in the middle of Crescent Beach on this tropical barrier island. The activity of Siesta Key is sunbathing, the beach and swimming. The white powder sugar quartz sand is like no other beach in the world. If have not visited Siesta Key before, you are about to find the most incredible sand you have ever experienced. The powder sugar white sand is actually quartz crystal and not silica or shell as found on other beaches. Many beach worshipers lay right on the sand without a towel or blanket to enjoy the coolness and feel of this beach. On the hottest day of the year, this sand dissipates the heat and remains cool. You can walk barefoot on this sand without an uncomfortable feeling. In 2009 Dr. Beach has rated Siesta Key Beach the #2 beach in America. The Beachhunter unabashedly states Siesta Key is his favorite and he has traveled the entire state of Florida and has written a book on our State's beaches. You can read David McRee's review of Siesta Key Public Beach as well as other Siesta Key beaches to understand what a beach aficionado looks for in rating beaches.
This incredible Gulf of Mexico sandy beach is a sun and beach lovers' paradise. The beach is well maintained by Sarasota County as a public park with beach workers grooming the sand each morning to maintain a smooth and pristine surface for the days visitors. The salt water swimming in this area is warm and refreshing with surfers, wind surfers, parasailers, surf fishing, bicyclers, walkers and runners all enjoying this delightful 4 mile long white sand Gulf of Mexico beach. The park is very well maintained and life guards are on duty everyday.
Our penthouse condo puts all of these activities right in front of you. Siesta Key Public Beach also provides areas for tennis courts, volleyball, baseball, soccer and a great children s play area with swings, slides, sand boxes and many other items to make this a child's dream. Picnic pavilions, nature and beach walking trails are incorporated into this unique park and concession stands with souvenirs, refreshments and light food along with public rest rooms are provided.
Walking the beach into the tropical Village of Siesta Key will provide everything you would want in side walk cafes, restaurants, shops, boutiques and great people watching. Vacationers from all over the world have discovered Siesta Key and made it a must location for their holiday get away.
Manatee Mating
On a quiet afternoon I noticed a flurry of activity at the beach. I grabbed my trusty camera and took a shot from the balcony of the activity below and then hastened down the stairs and to the beach to see what all of the commotion was about. Upon arriving I discovered crime scene tape being deployed along the shore line and witnessed a number of large black mammals hanging around the surf. Everyone seemed as confused as I and information seemed to be pouring from a geek looking individual who I learned worked for Mote Marine in Sarasota. It seems that manatees mate in what we humans would term a "gang bang". We counted 20 manatees in total and were informed that this pod was made up of one female and the rest males. I assume the female was the one who had beached herself and was waiting for a cab rather than to return to the water with the "boys". Living on the beach is fascinating in many ways, but a group of 20 manatees stopping by for an afternoon delight is truly unexpected. Then to learn of their mating habits, which are frowned upon in our society is even more of a surprise. The only thing that made any sense was the fellow from Mote Marine who seemed very well versed on Manatee Mating. I witnessed no power boat owners picketing the area in protest of more manatee proliferation and found it interesting to recall that Al Gore did his warm ups for debating George Bush at Mote Marine. Now we know the rest of the story. Watch our video of this unique and mammal saving process of an endangered species mating on Siesta Key. With 19 to 1 odds I can understand why they might be endangered and we could get the power boat guys off the hook. No pun intended.
Siesta Key Public Beach
Siesta Key Public Beach is more than sand, sun and water.
Gulf Coast Beaches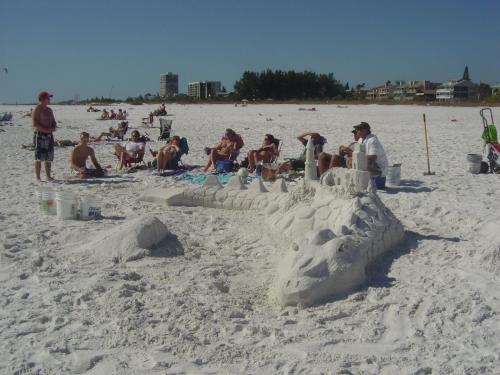 The intent of this website is to attract potential rental guests to our Sunset Royale condo #408 and to give our rental guests and others as much information as possible that will enhance their Florida beach vacation experience. Nann and I have been to a number of Gulf Coast beaches and even though we knew we were on the best beach in Florida if not the world, we still like to visit other beaches. We realized that our penthouse condo at Siesta Key Public beach is ideally located to explore other wonderful beaches up and down the Gulf coast and still come back at the end of the day and marvel and enjoy our incredible Siesta Key beach. Completing our exploration of the other Florida Gulf Coast beaches has been high on my "to do" list, but alas we just don't seem to find the time to commit to the time and effort that is needed to complete this project.
Recently I came across an individual by the name of David McRee and his beachhunter website. I no longer have to make excuses on how other gumption traps have prevented Nann and I from our beach explorations. David has done this for us and with grand style. Even better, David is from this area and has somewhat left his vocation as an accountant and followed his avocation of beach hunter. I cannot speak for David's accounting proficiency, but I can vouch for his research and reporting on our Florida Beaches. David is a fount of information and his website will provide a plethora of beach information, facts and trivia. Not only that, he does with fun and passion. It also does not hurt that David's #1 favorite beach is none other than Siesta Key Public Beach. How perfect.
The information does not stop with David's Beach Hunter website as he has written a book on Florida beaches that is a must for you to read before you venture on a beach vacation expedition. You don't have to bring your book with you to our condo as we have a copy for you to access while you are here. Nann and I don't advertise products on our website other than our condo #408, but in the case of David's book we are attempting to make it clear that this is an important research tool for your beach plans, a must read and an excellent resource publication. You can order this book on the beachhunter site by going to our link to David's book on Florida Beaches.
One would think that between David McRee's website and his book that I would not have much more to say about the Beach Hunter, but in fact I do. David has developed a free download on the critters that live in our waters and how to best protect your self from the dangers that they might physically present and at the same time eliminate some of the unfounded fears you may harbor that can now set you free to explore our waters with a much better understanding and respect for the home of our water species.
Florida Sun
One of the warnings that I attempt to educated all of our guests on is the difference in our sun and the sun where you live. Our sun is very different, it is very intense and you must learn to respect our sun. I cannot over emphasize the importance of using sunscreen. The way that I usually explain this is the same way that Mayor Daly explained Chicago politics. "sunscreen early and sunscreen often" For those of you that are not familiar with Mayor Daly or his Chicago politics, I have plagiarized the information from the Beach Hunters website.
Even though the sun feels great on your skin, it causes premature skin aging, skin cancer, and various splotches, and wrinkles. The most obvious sign that we've damaged our skin is sunburn.
The sunlight reaching the earth contains ultraviolet radiation. Sunlight has UVA, UVB, and UVC waves.
UVC rays

Absorbed by the earth's ozone layer
Does not cause skin damage

UVB rays

causes sunburn
most damaging between 10am and 2pm
less intense during the winter months

UVA rays

penetrate deeply into the skin
present at all hours of the day
present during all seasons
causes long term damage to skin
does not cause "sunburn"
The above descriptions of UVA and UVB rays are important to understand when we discuss effective sunscreens later.
Reflected Sunlight